New and improved technical tools Imaging lens selector Visit
GCX-L12APC-780 Fixed Focus Fiber Optic Collimators
GCX-L12APC-780 Fixed Focus Fiber Optic Collimators
GCX Fixed Focus Fiber Optic Collimators
Triple fiber optic collimators provide the better collimation, smaller spherical aberration, smaller wavefront and smaller angle divergence than double lenses and aspheric lenses. Its wavefront is less than 1/8 lambda. Its benefit is the M2 factor is close to 1 (Gauss beam).
◆ Broadband antireflective coating at 630nm, 660nm, 780nm & 1550nm
◆ Available focal length: 6mm, 12mm & 15mm
◆ Full-angle divergence <=0.12°
◆ Fiber interface type FC/PC or FC/APC
◆ Exquisite stainless steel case
◆ Damage Threshold: 10J/cm2 (10ns 10Hz 1064nm)
We will calibrate the optical collimation for each one, and test the quality of the collimating beam by M2-200S-FW@spiriconM2. The M2 factor should be less than 1.3.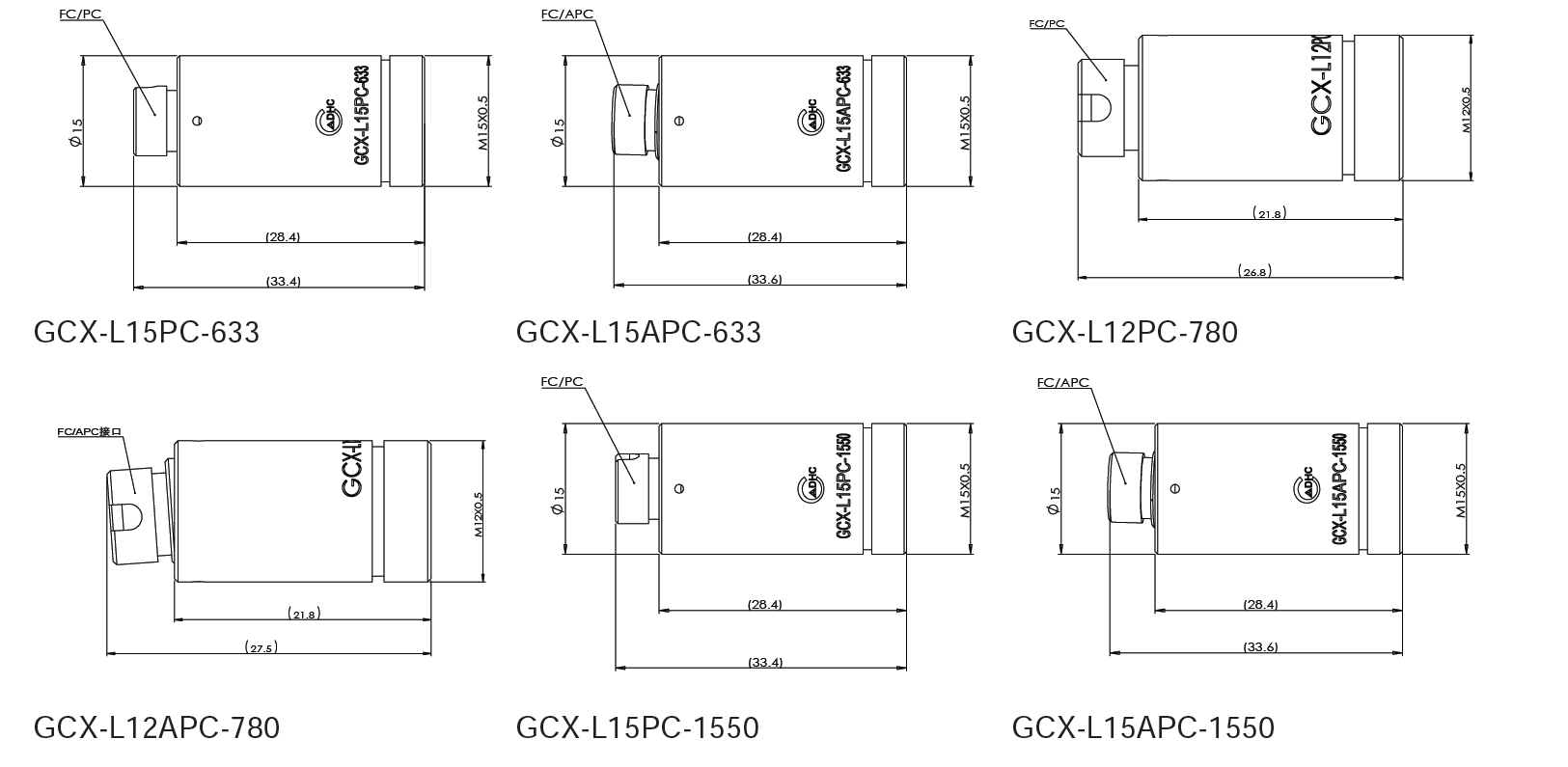 GCX Fixed Focus Fiber Optic Collimators
| | | | | | | |
| --- | --- | --- | --- | --- | --- | --- |
| | | | | | | |
| Alignment Wavelength(nm) | 633 | 633 | 780 | 780 | 1550 | 1550 |
| Coating Wavelength(nm) | 350-650 | 350-650 | 650-1050 | 650-1050 | 1050-1550 | 1050-1550 |
| Waist Diameter (1/e2) mm | 3 | 3 | 2.66 | 2.66 | 3.75 | 3.75 |
| Fiber interface type | FC/PC | FC/APC | FC/PC | FC/APC | FC/PC | FC/APC |
| Full-angle Divergence | 0.016 | 0.016 | 0.021 | 0.021 | 0.038 | 0.038 |
| Focal Length (mm) | 15 | 15 | 12.32 | 12.32 | 15 | 15 |
| NA | 0.14 | 0.14 | 0.14 | 0.14 | 0.14 | 0.14 |
| Length (mm) | 33.4 | 33.6 | 26.8 | 27.5 | 33.6 | 33.6 |
| Diameter (mm) | 15 | 15 | 12 | 12 | 15 | 15 |
Scan the QR code to read on your phone
We could not find any corresponding parameters, please add them to the properties table