New and improved technical tools Imaging lens selector Visit
GCC-4021 Broadband Polarization Beamsplitter Cubes
GCC-4021 Broadband Polarization Beamsplitter Cubes
A polarizing cube beamsplitter consists of a pair of right angle prisms cemented together. The hypotenuse face of one prism is coated with a special multilayer dielectric coating. When nonpolarized light is normally emerging through two adjacent faces in perpendicular directions and polarized orthogonally to each other.The transmitted beam is p-polarized while the reflected beam is s-polarized. When the linearly polarized light is incident, it is similarly divided into two beams in a ratio depending upon the orientation of the electric field vector of the incident light beam. These polarizing beamsplitters are available for many common laser wavelengths and broadband ranges.
•Material: SF2
•Diameter Tolerance: ±0.15mm
•Flatness: λ/4@632.8nm
•Surface Quality: 60-40 scratch-dig
•Clear Aperture: >90% dimention
•Extinction Ratio: Tp/Ts>1000:1
•Beam Deviation: 0º±3' (Tp), 90º±5'(Rs)
•Incidence angel: 0º±2º
•Coating: Single wavelength polarization partial reflectance on hypotenuse face.
Coating of outside surfaces: multilayer AR V-coating, Rave<0.15
•Temperature Range: -30℃ to +70℃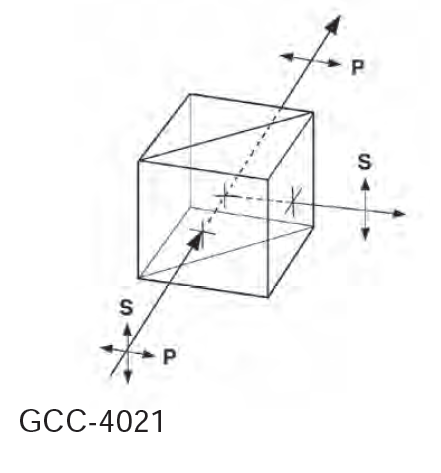 GCC-4021 Broadband Polarization Beamsplitter Cubes
| | | | | |
| --- | --- | --- | --- | --- |
| Part No. | Wavelength(nm) | Tp | Rs | a=b=c |
| | 420-680 | 95% | 99.8% | 12.7 |
| | 420-680 | 95% | 99.8% | 25.4 |
| | 650-900 | 95% | 99.8% | 12.7 |
| | 650-900 | 95% | 99.8% | 25.4 |
| | 900-1200 | 95% | 99.8% | 12.7 |
| | 900-1200 | 95% | 99.8% | 25.4 |
| | 1200-1600 | 95% | 99.8% | 12.7 |
| | 1200-1600 | 95% | 99.8% | 25.4 |
Scan the QR code to read on your phone
We could not find any corresponding parameters, please add them to the properties table